LinkedIn Sales Navigator is a powerful tool, used well, it helps you identify specific people you would like in your network then it helps you to engage and connect with them.
Once connected it can keep you updated with triggers that can spark up a conversation.
Only through meaningful conversation will you convert people in your network into new business opportunities. There are millions of people on LinkedIn, your decision makers, influencers in your target accounts, and people who will share and promote your content.
If you have recently upgraded your LinkedIn account to leverage the platform for sales using Sales Navigator or Sales Navigator Teams, then read on for quick tips to help you make the most of your subscription.
If you are an old hand at Sales Navigator, you may know some of these, but with constant platform changes, you may want to read on to get a fresh perspective.
Our experience comes from testing lots of approaches. We manage dozens of LinkedIn profiles across different industries globally.
Here are my top tips to leverage the power of Sales Navigator.
1. GO 'ACCOUNT FIRST'
As you can search for people by their job title, industry, number of full-time employees, geography, it is very tempting to just search in the 'Leads Search'. However, your results will not be as accurate.
The industry does not reliably transfer from your current role, as people edit that themselves on their personal profiles. I, for example, say that I work in "Marketing & Advertising". I do, but equally, a Marketing Director at a Pharmaceutical company may say the same thing.
However, if you were looking to connect with a Pharma Marketing Director, you'd be looking for people in the industry 'Pharmaceutical'.
So, wherever you have a demographic search of accounts, always go 'Account First'.
Save to a custom list, then search for the people that work within those accounts.
However, just to throw a spanner in the works, we have discovered something that is affecting the accuracy of Sales Navigator results.
I'm going to demonstrate a search in the Lead Search for people that work in a custom list. I have added just 3 companies into my custom list so it is easy to see anomalies.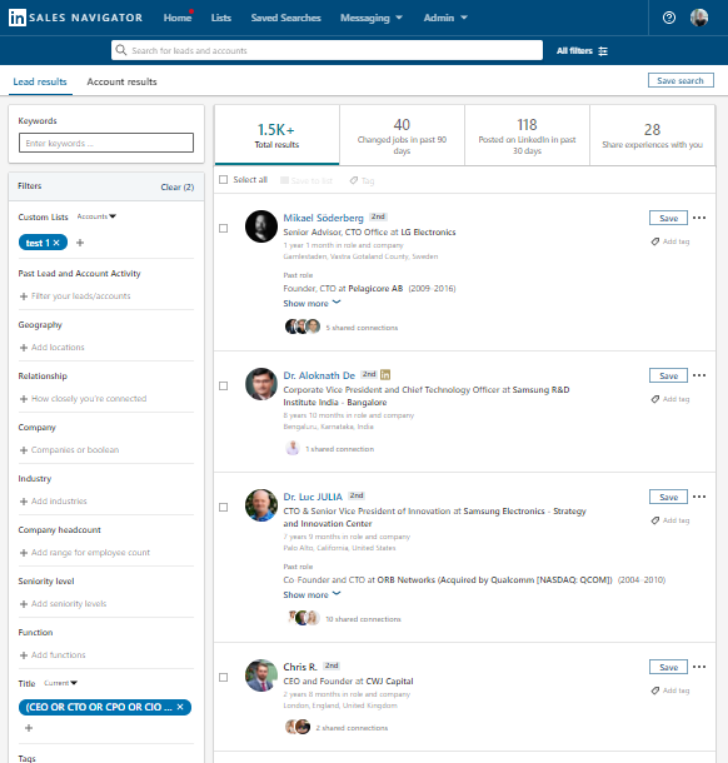 So, why is CWJ Capital coming in?
The CEO at CWJ Capital is also 'Shareholder' at Apple.
Where you have two companies that are 'Present' Sales Nav is not searching for the job title in that company, they are searching for ANY job title that fits across any of the present companies.
This is why our technology is built to associate the right job title with the company in the custom list, and skip over the profile if it isn't an exact match.
Anyone not working with us to build their lists, be aware of this inaccuracy. Using custom lists is the best way to find correct leads, but you still need to manually go through the list and save the leads that look good.
As a case in point, if you search by industry, you will see that out of 1.5k leads, that only 915 consider that they work in Consumer Electronics. (The industry that all 3 companies in my custom list are from). Others consider that they work in many other industries, including Marketing & Advertising.
To further bring this home, take a look at the size companies that these people work in. Considering they all apparently work in Samsung, LG or Apple, there is a huge variety of size companies.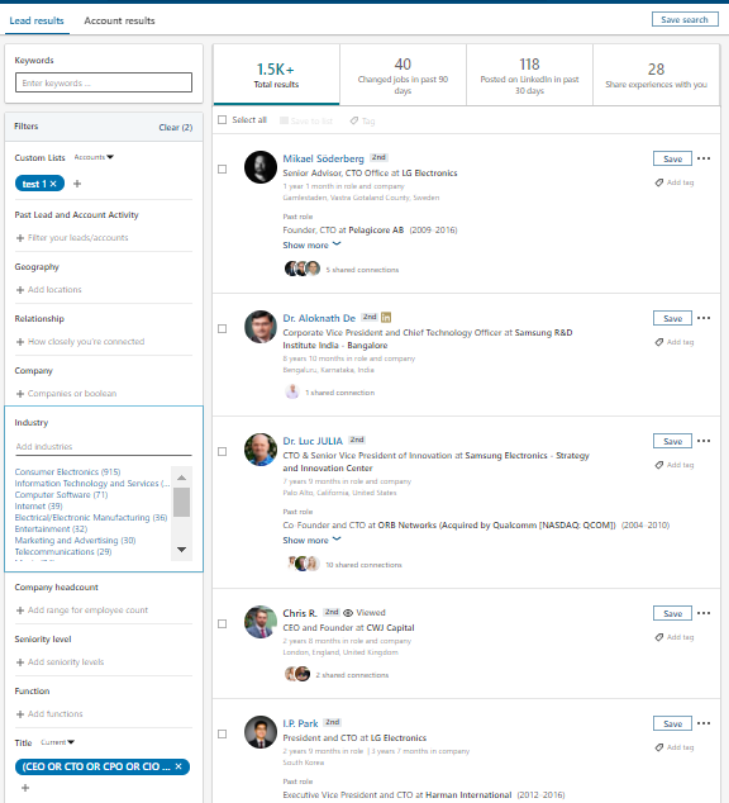 2. Use boolean for your job titles
When you start to type a job title, LinkedIn's automatic job title dropdown comes into play.
Very tempting to tap "Chief Technology Officer', however, they could be a Chief Technical Officer, or even a Chief Tech Officer.
If you search on the dropdown for technical or technology, there are 61 results.
Search with a boolean and 50 more results are found.
We are still on the search with lg, samsung or apple, and this person has turned up in the search because they are ea to the ceo, so the dropdown doesn't even give you the advantage of the exact match search.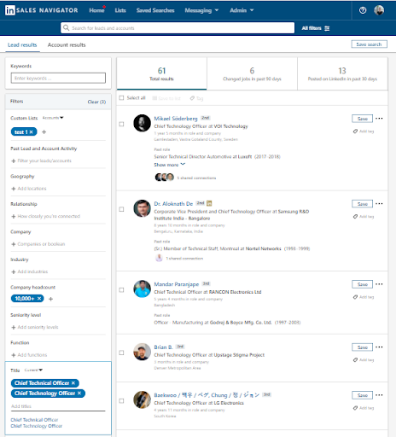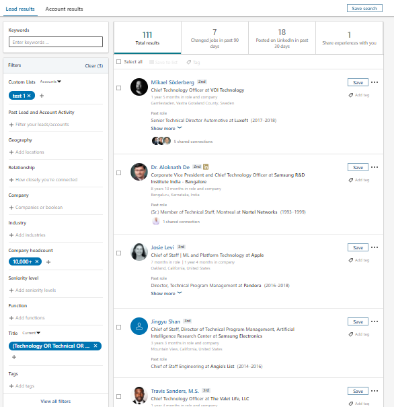 3. Stipulate geography for both account and lead
You may be wanting to sell to people based in the UK, but do you want to limit yourself to selling only to companies that are headquartered in the UK. You may want to sell to UK HQs, but if your decision maker happens to live in Europe, does that mean you wouldn't target them.
Geography is relevant against both company and individuals so something to consider.
You can do a search against a radius around a postcode, could be useful to you, but we have found that it can getting a bit granular for company HQs.
It might be more useful to find individuals who are close to you. Remember though, that this data can be outdated on leads as people need to change their own location.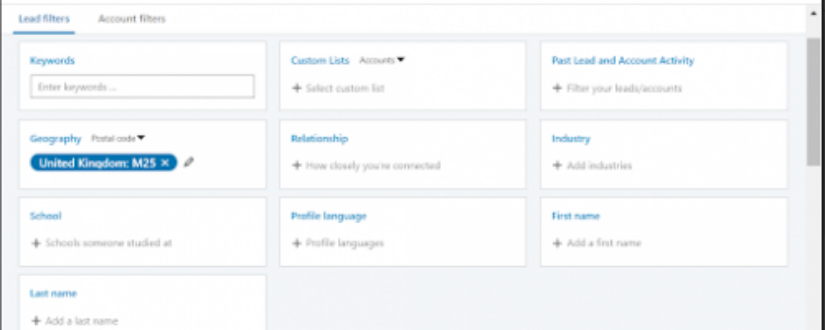 4. Consider what makes a good client for you
We often ask clients what makes a good client for you, and in asking that open question, we get a sense…
e.g.

"We work with AdTech or MarTech companies"
In this case we would add these words as a boolean in the keywords of the Accounts advanced search.

Another example

"We work with tech companies that are quite small, but if there is no marketing person there, we end up doing more of the work, so our preference is that there is a marketing person in place. However, we generally sell into the CEOs initially."

Two ways to tackle that one.
Search for companies where there is at least one marketing person in place, and then find the CEOs of those companies.
OR…
Find all the companies that are suitable, and then search for the leads within those companies with marketing job titles, which will naturally exclude those without a marketing person.
Save the companies into a custom list, and then find the CEOs within that custom list.

Third example

"We work with companies that are aggressively growing."
Search for companies that have been hiring sales people, by focusing on the Department Headcount Growth.
5. Find companies that have received investment
This is on the top filter after you've made your search, so be sure to go broad enough in your original search to uncover those who have had investment. Information comes from Crunchbase.
I would advise you to search by company size here as well as you can get very large companies with investment as well as startups.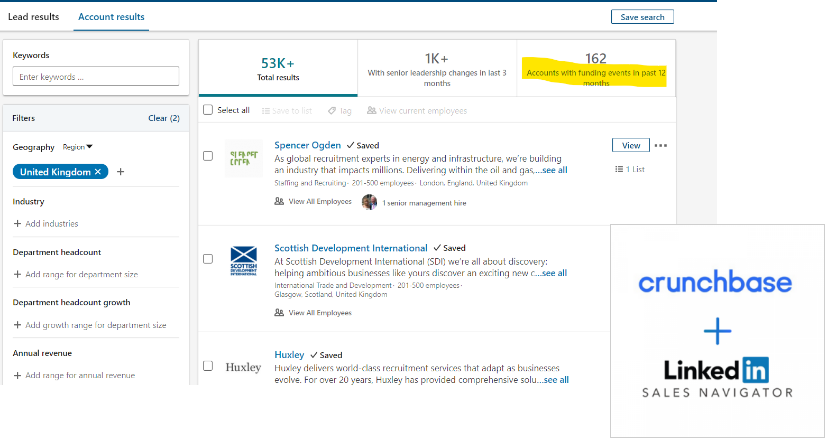 6. Don't search by revenue, (trick on how to search by ftes)
Very often, clients will know the size company to target based on their annual revenue, and if you use this filter, the number of results are far fewer. I believe this is simply because when you create a company page, you stipulate the FTE bracket and every company has to do that – unlike revenue.
The revenue is in millions of any currency, and so you need to be looking for companies with £1Million plus in any case.
If you look at the search below, all the companies with £10M+ have 10k+ employees. So, it is a good bet that if you search for 10k+ employees rather than revenue, you will be in the right bracket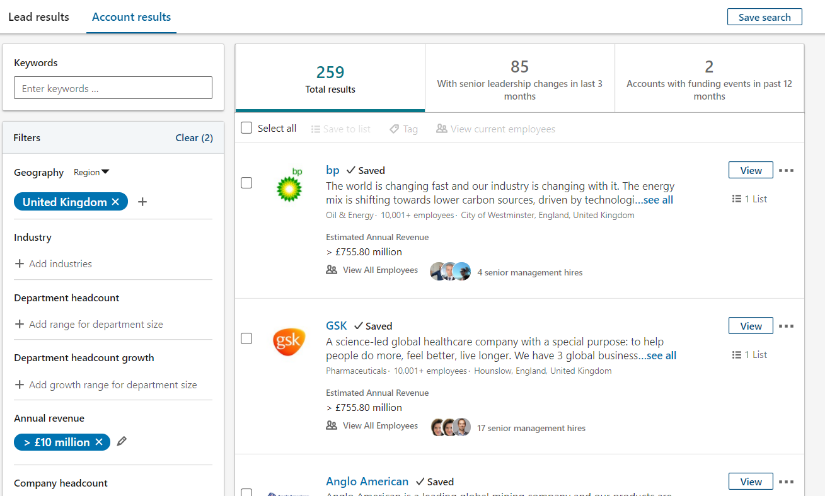 If you do the search again based on FTEs, the pool is far bigger.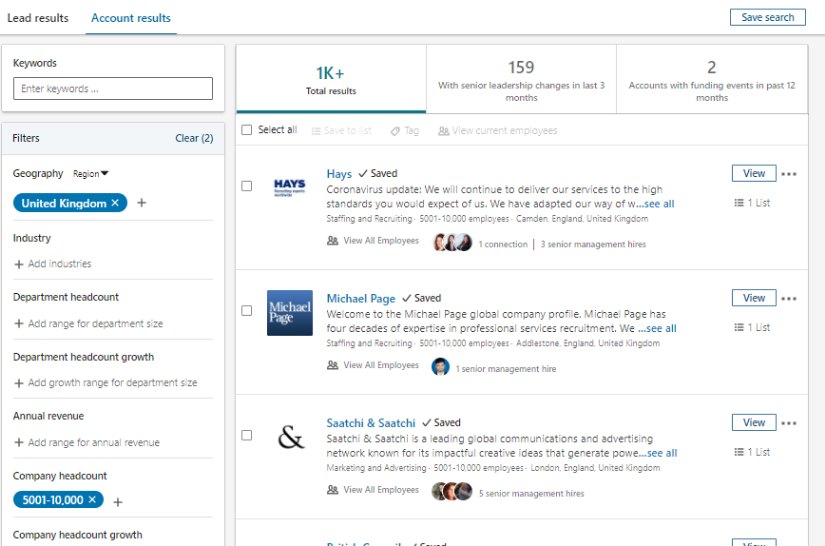 7. Don't search by revenue, (trick on how to search by ftes)
We were so excited when we saw LinkedIn had added this filter which we assume must come from BuiltWith or similar.
Unfortunately, although it does capture a lot of information that is correct, there is so much that is inaccurate that we have decided to use this with caution, and rely more on investigation outside of LinkedIn to get this information.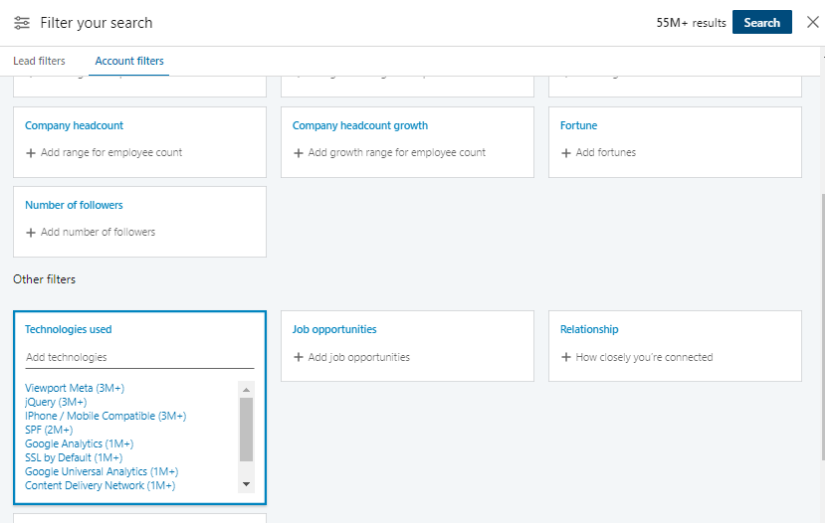 8. Know the difference between saved searches and custom lists
This has confused a lot of people, not least because LinkedIn upgrades happen all the time. The custom lists have replaced tagging. It allows you to group accounts or leads into lists. Once they are saved into a list, they are also fixed, no new saved leads will be added and none taken away.
Once you have your custom list in accounts, you can then search for people within these selected accounts.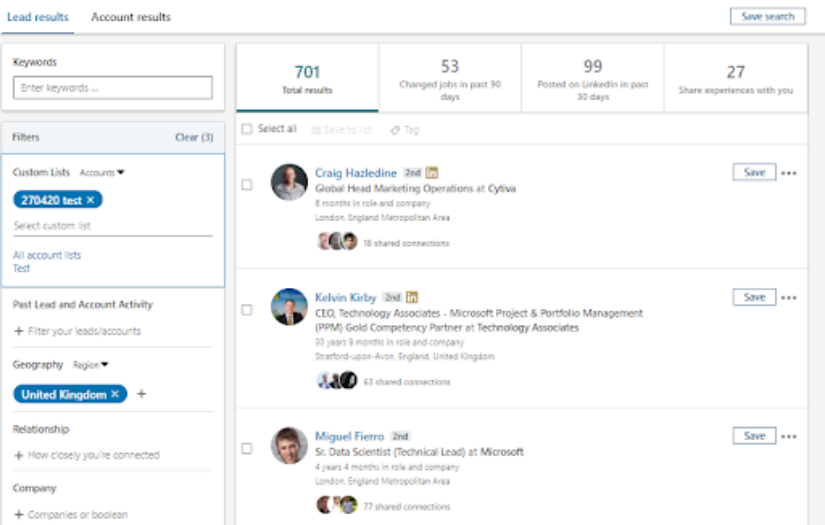 Note on this example above, the custom list is a list of accounts, and the people in the lead search can also be saved into sales navigator, within, or outside of a custom list.
Saved searches are handy when you have created an account search and you want to be able to recreate that search without having to remember how, or re-do the filters.
Accounts or Leads will come and go out of a saved search if they update their work information. Just because the accounts or leads are part of a saved search, that does not mean that they are saved in sales navigator and it is not a fixed list.

It can be useful to set up alerts or to click on new results (available on both lead and account, but particularly useful for leads so you can spot people who fit your profile, but did not previously.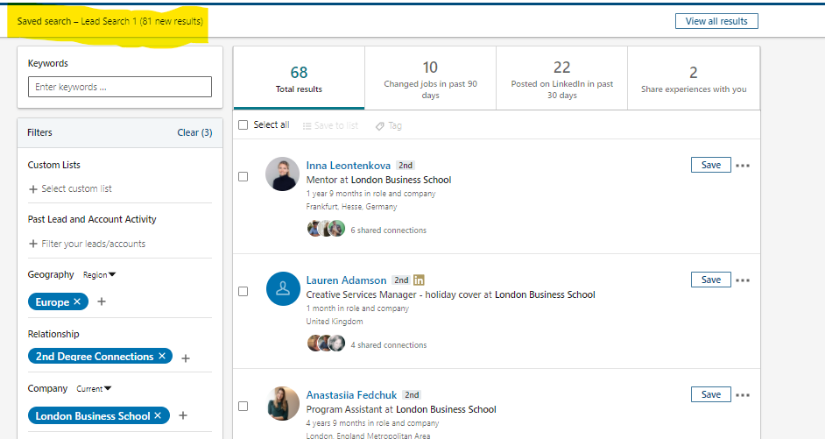 The previous eight points were about identifying, now we will focus on what to do to istart up authentic two-way conversations using the power of Sales Navigator.
9. Save your leads to look out for triggers
With up to 1500 saved leads in Sales Navigator, you can track their activity even when you are not connected. Indeed this gives you a reason to connect or re-start a conversation.
The alerts (annoyingly) are not 'by custom list' but by all saved leads.
The default home feed page shows you all the alerts, right from 'a company you saved was mentioned in the news' to 'someone you have saved, just viewed your profile' or 'name accepts your connection request'.
Keeping a track on all activities can give sales people a lot of reasons to make very specific approaches. If you are targeting senior people at large companies, you can spot if someone was mentioned in an article. You can get in touch to say that you were reading said article and was fascinated by…. (turning this into a conversation)
People make very quick decisions on who they will connect with, most people nowadays connect to people they have never met before, and very often the decision is based on whether you look like you've made the effort. If you say something specific and show interest in them (not selling) then many people will connect with you.
Luckily for you, you are 1 in 20, maybe 50, of the people that actually make the effort to use their content as a trigger and reason to get in touch. You'll stand out when everyone else sends the same sales message hoping someone is looking for their service at that moment.
If they are looking, they may connect, if they aren't, then they won't. With 3% of people ready to buy at any moment, this means you lose out on 97% that may buy from you in the future.
GET A PRICE
Want to sell more by creating conversations that convert?
Find out how Pitch121 can unlock the power of your network.
Get a price
10. Like and comment on posts using 'lead shares'
Move the home page alerts to 'Leads' alerts, then you get to see the updates / posts from the actual people you'd love to do business with. Very often those posts have a couple of likes, and no comments at all.
They have spent time on that post, and may feel a little gratitude when you are the only person to comment with something meaningful which helps their post to be seen by more people.
This is small, but this is you giving a little (a like, or a comment) before asking a little (will you connect?)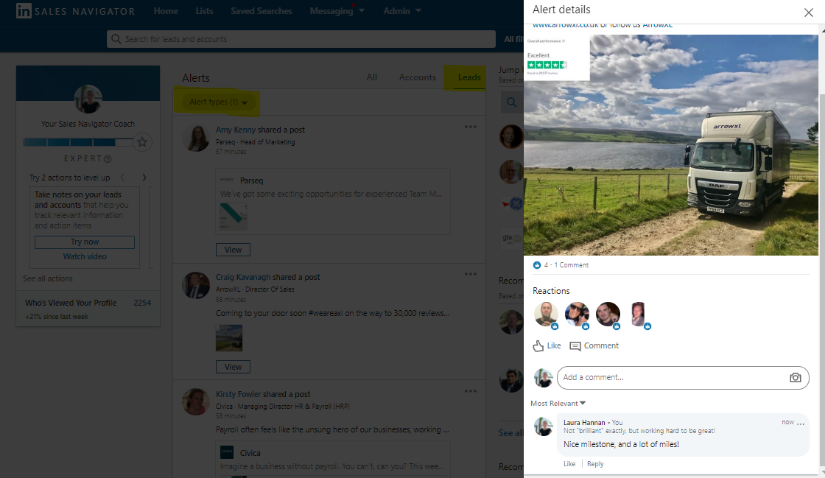 11. Show interest in them when trying to connect (flattery)
The leads shares is one way to engage before connecting – it lends itself nicely to a connection message that says,
"I saw your post about your new brand – congratulations, looking great! It made me take a look at your company page, and thought it would be great to connect."
or simply,
"I saw your post and liked it. Is it okay to connect?"
If you are selling to senior contacts at larger companies, use the 'in the news' feature. They may be pleased when they are written about in an industry article, and the fact you've noticed and got in touch is rather flattering, using this filter means you don't miss any.
You can have a look for articles or posts they have written too.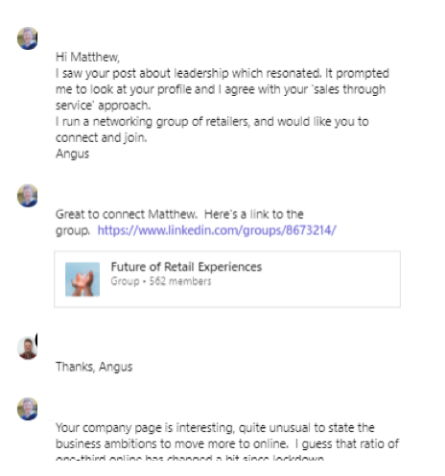 12. Withdraw those that don't connect after 2 weeks
This is not specific to Sales Navigator, but if you are cold(ish) connecting, it is important to avoid people saying 'I don't know' this person, which is considered a bit of a black mark. You can get a restriction on your account that means you are not allowed to connect without an email address, which will dampen your network growing capabilities. (It is also a little annoying)
For those people who don't connect, you can withdraw the connection request, and we recommend doing this after just two weeks. We did some research, and if someone was going to connect, 90%+ will do so within the first two weeks, so you may as well withdraw to avoid these 'black marks'.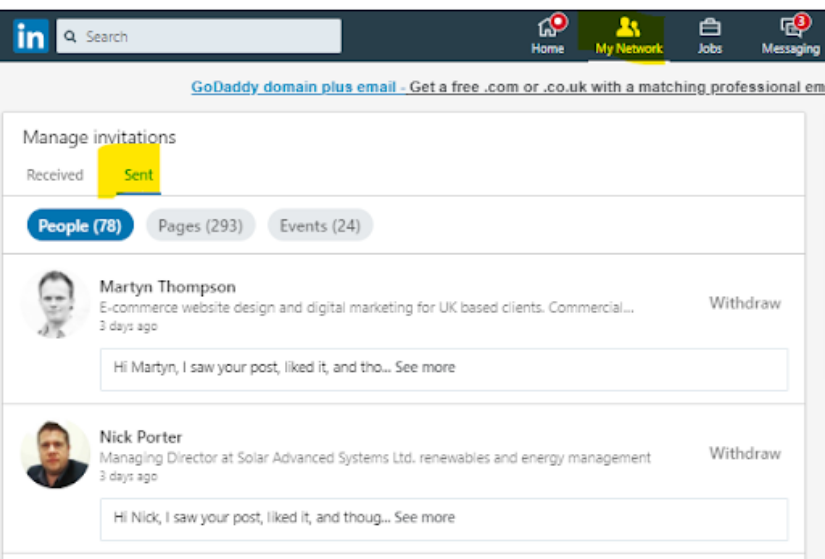 13. Continue to like and comment after connecting
Once connected, continue to like those posts. People will generally think you are a nice giving person, and be grateful for the fact you help give their posts exposure.
Also, in liking their posts, they are more likely to see your posts in their home feed, which is exactly what you want. They get to see your expertise, your belief and how you can help them over time through your posts.
LinkedIn is now telling you in your (linkedin.com) notifications that a new connection has posted, they are actively encouraging new connections to engage, and once you start engaging you see the same people each time thanks to the algorithm.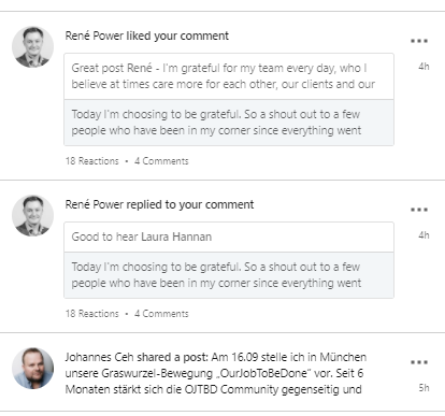 14. Continue to like and comment after connecting
Whether you technically have a 'team' using LinkedIn or its just you, the Teams upgrade of Sales Navigator, we think these two features can be worth the additional $40/month.
Save 5k leads into sales navigator

If you are wanting people to post, be in the news etc. before connecting then you may want to have a bigger pool of people to increase that activity, or similar to sift through and find the most salient posts and articles.

Smart Links

Smart Links You can upload a presentation into LinkedIn and share a link to it in a post, a message, or even email or other social platforms. To read the presentation it takes you to LinkedIn so you can track who read which bits, and for how long.
This is smarter than other tracked presentations which either require a log-in, or, you need to send them a unique link. In this case, you can put the same link to a lot of people and know who viewed, when and what they appear to be most interested in.
15. Monitor both inboxes, or use just one
LinkedIn.com has a separate inbox to Sales Navigator.
You can connect, or message a first degree connection from either one.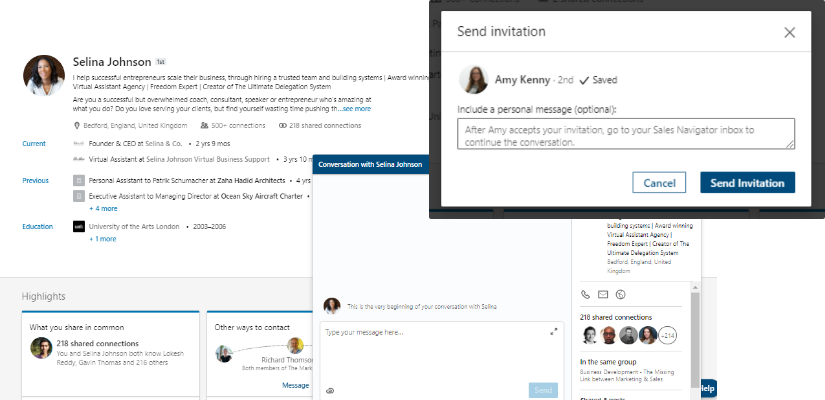 As outlined in the text where you would add your personal message, when she connects the conversation continues here, whereas when you connect or message in linkedin.com the conversation connects there.
Being aware that this happens is important as if you are only checking one inbox, you will miss messages.
Our advice is to do everything except Inmails (because you can't) in LinkedIn.com – the inbox isn't great to filter through, but it is better than the Sales Navigator inbox.
This means when you find someone in Sales Navigator to target, you should view them in LinkedIn.com to message or connect to them there, so it sits with all the other messages you typically have coming into your main inbox.