Find out how we helped customers in a similar market to you, connect with their ideal clients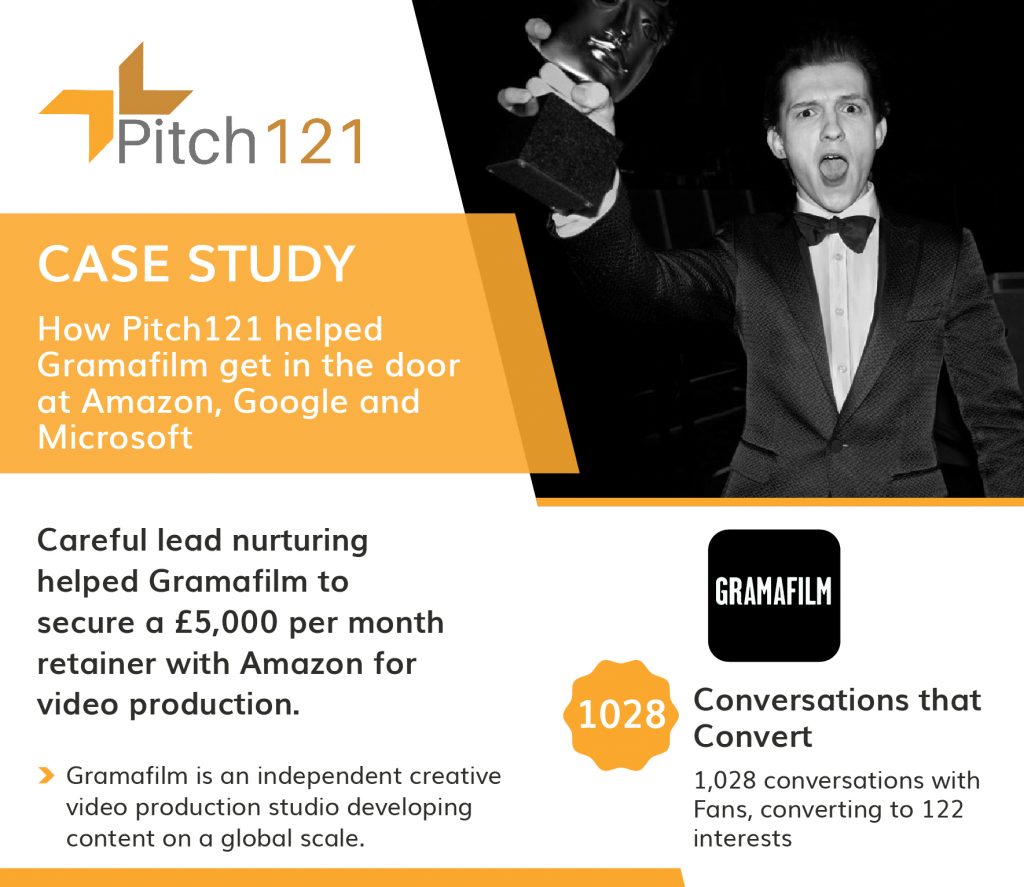 How Pitch121 helped Gramafilm get in the door at Amazon, Google, Microsoft, SAP, Intel and Oracle.
Conversations That Convert
1,028 conversations with Fans, converting to 122 interests

17% of all interests converted to meetings

Lead nurturing generated substantial pipeline of new business
Careful lead nurturing helped Gramafilm to secure a £5000 per month retainer with Amazon for video production
1028

Conversations

122

Interests

17%

Converted to meetings
Gramafilm is an independent creative video production studio developing content on a global scale. Having relied on email outreach for new business development with little success, CEO James Morton-Haworth was advised to engage Pitch121 to identify and engage with Gramafilm's ideal future clients on LinkedIn. The results were stunning, leading to new deals with Amazon, Red Hat, and Oracle - as well as successful meetings with Microsoft, Google, Intel, SAP, HP UK, and more.

How Did We Find The Fans?
A combination of LinkedIn expertise, technology, and a rigorous eye for detail meant we only targeted the perfect prospects.
Once we made contact, we engaged on a bespoke, 1-to-1 basis, treating Fans as human beings

Our collaboration led to new business with Amazon, and pipeline projects with Red Hat and Oracle.
Pitch121's tailored approach to creating conversations that convert generated 1028 conversations with new Fans
Cold email outreach was failing to generate enough, sustainable new business opportunities to keep this award-winning creative agency growing. Gramafilm produces amazing content, but needed a new way to get it in front of potential clients. LinkedIn provided that opportunity. On the recommendation of Missouri Creative - a Pitch121 client who had already achieved great success with our approach in a similar space - James decided to try Profile Based Marketing.
Credential details sent out
The results were stunning
We began by targeting people in those sectors where Gramafilm already had a proven track record and great client examples.
First of all, we created posts that showcased Gramafilm's expertise in these verticals, so as to get James onto potential clients' radar and establish his credentials as a thought leader.
This generated thousands of views on James' profile page - so that when we began sending connection requests to build his network, many of the people were already familiar with him and were happy to chat. 1028 of them were happy to chat, in fact!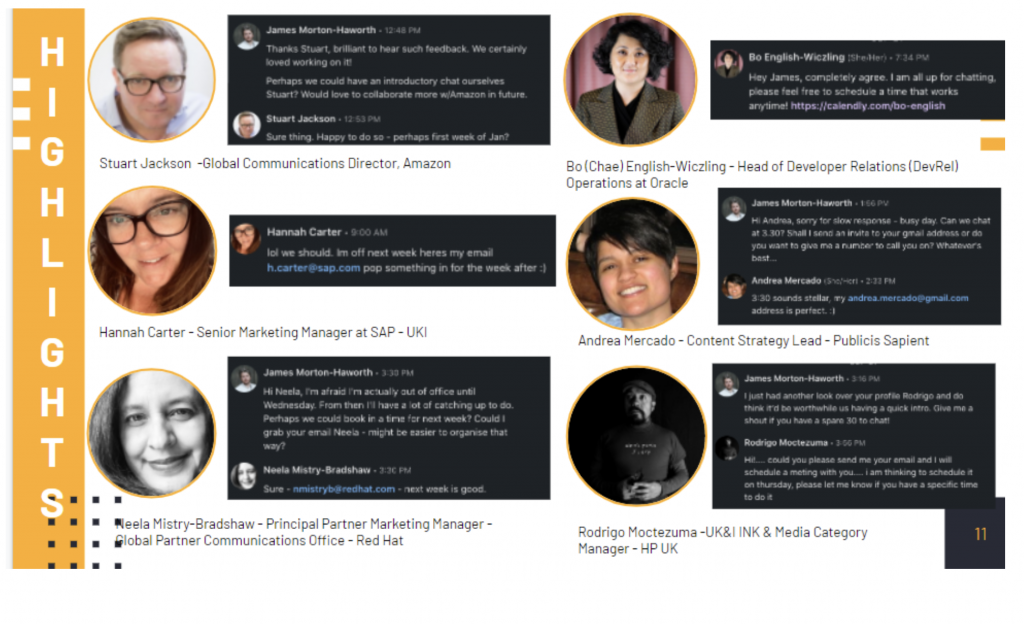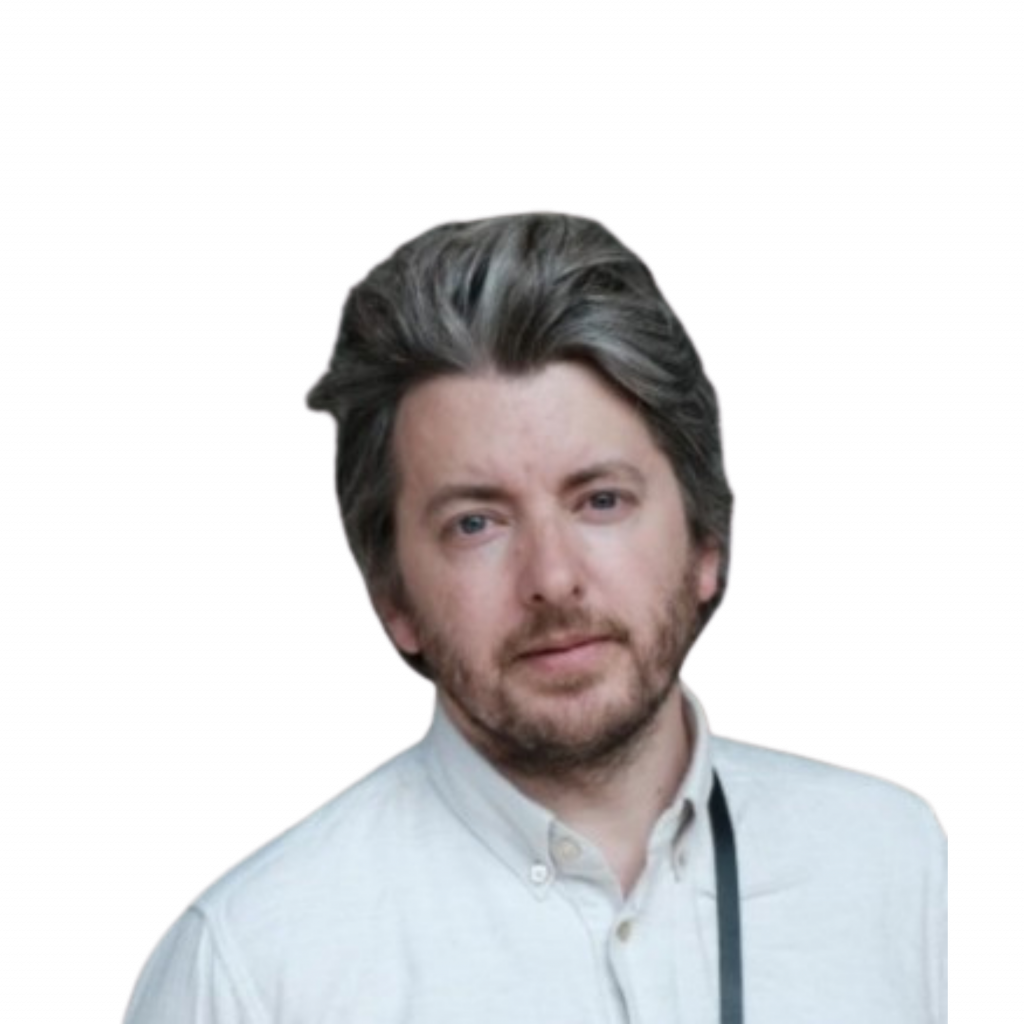 Collaborative approach, ongoing dialogue. Communication and the genuine care from the team
- James Morton-Haworth, CEO, Gramafilm
After just one month of using the Pitch121 service, James had introduced himself to, met, and closed an ongoing deal with the director of communications at Amazon.
This success led Gramafilm to take out a second profile with us, to double the speed of outreach. Two months after the second profile, Eddie, went live, he won a deal through the EU creative director of Amazon Prime Video! And those were just the headline wins - we built a solid pipeline of other work and an engaged network of high-level decision-makers that know and trust Gramafilm.
Creating Conversations that Convert
Get in touch with a member of the Pitch121 team.