LinkedIn is a great way to generate new connections with businesses that might be interested in your product or service.
However, we also understand that LinkedIn is full of sales messages.
We believe in people not personas.
Our approach is to build the connection first and when done right, relationships, leads and conversion will follow.
With this in mind, what are some of the best ways to connect with prospects on LinkedIn?
We spoke to our resident experts, Charlie Castillo, Amy Taylor and Gina Agnew, to find out.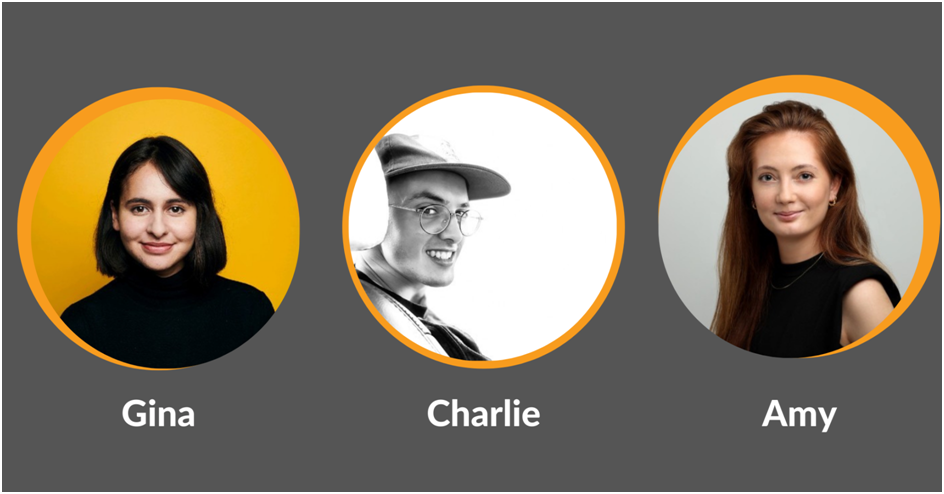 Compliments:
Charlie: Compliments can go a long way, and they don't even have to be super detailed. It doesn't take long to find a campaign a potential customer has produced and comment;
"Looks like you get up to some great stuff at #Company#, brilliant to see you integrate so many platforms on your recent Nike campaign".
Comment / Like a potential customers post:
Amy: Not everyone is active on LinkedIn, so this is dependent on WHEN the post came out – we don't want to be creepy now…
But if the prospect has posted or been tagged in something interesting – why not use it to strike up a conversation?
"I just came across your recent post, I'm not shocked that #Company# won that award, very much deserved"
"I liked your recent post and I actually "like" it"
Comment on their about section:
Charlie: This can be a goldmine or finding out what they actually do – and why they do it. If you're lucky, the prospect will fill it with their passions, which = more room for conversation.
"I couldn't help but read your about section, it resonated with me because XYZ"
Comment on their images: (if possible)
Gina: Images/banners can also be a goldmine too, if relevant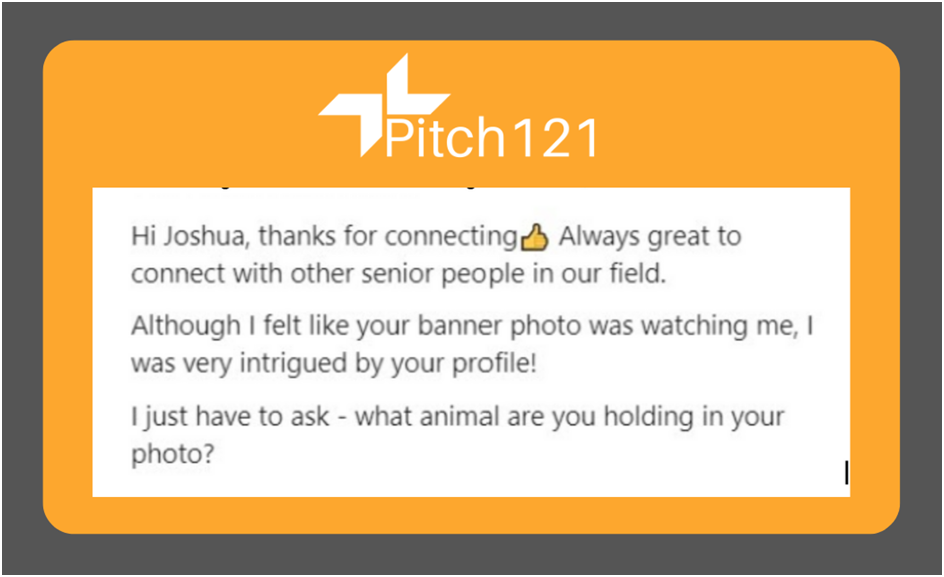 Research their website:
Charlie: This is an alternative to looking on their website and also shows that you've gone the extra mile.
Even a short line;
"Hi #FirstName, I loved the crafts page on your website, you've created some great campaigns"
Acknowledge that you have lots of mutual connections:
Amy: This is something that prospects will normally notice themselves, which adds an element of trust
"Looks like we have a fair few mutuals on here, so it made sense to connect".
Dropping that line in won't do any harm!
Just find common ground!
Gina: If you want to expand your marketing connections, just say so – it's unlikely those in the industry won't want to connect with you for that reason.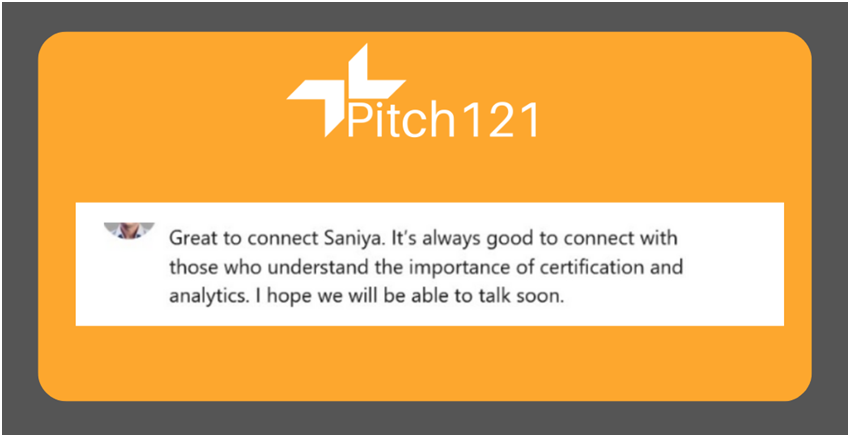 A huge thank you to our fabulous Senior Social Media Copywriters, Amy, Charlie and Gina for sharing their wisdom with us.
…
Learn More:
For further information, check out this helpful webinar on how to start up future conversations by clicking here
If you have any questions, please reach out to a member of the Pitch 121 team. We would be super happy to hear from you.
Web: www.pitch121.com
Email: [email protected]