The Challenge of Brand Awareness in B2B Marketing
As a B2B company, enhancing brand awareness in a cost-effective manner is critical, especially when your target market is largely unfamiliar with your brand. A lack of brand recognition can significantly impact your company's ability to generate leads and impede the success of your salesforce. This article will explore various strategies to build brand awareness, with a special focus on leveraging LinkedIn as an effective and cost-efficient tool.
Understanding the Brand Problem
Several reasons might cause a B2B company to struggle with brand awareness:
Company acquisition
New product development
Geographical expansion
A re-brand
A misconception or reputation problem

A brand problem is a company problem.
Every department is affected, whether you're trying to recruit the best candidates or sell more products to your best client.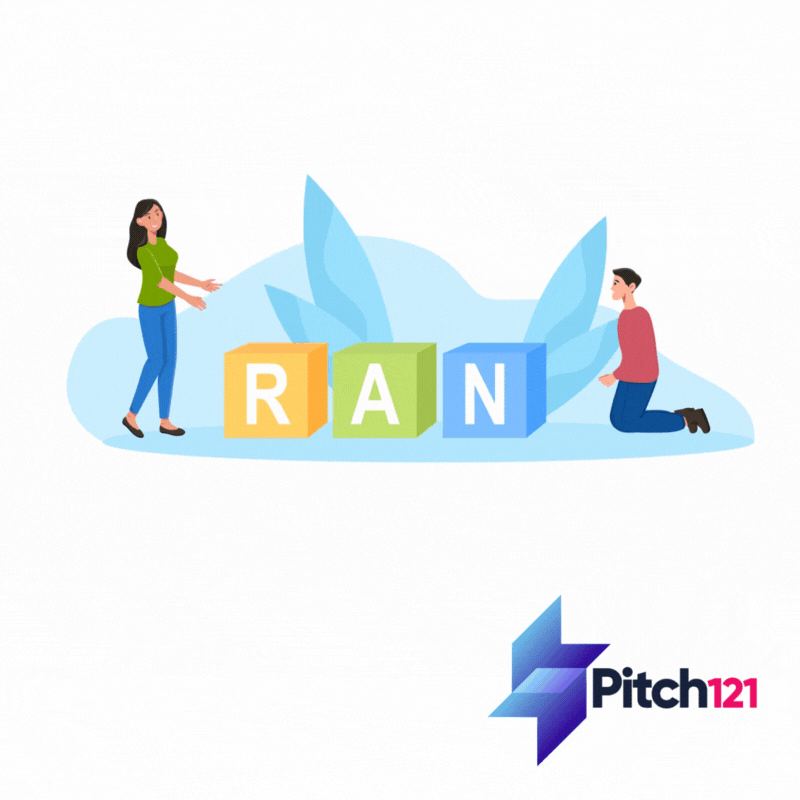 LinkedIn isn't a panacea for your branding challenges, but it can be a powerful amplifier once you've established your unique brand identity and messaging. After successfully crafting your brand, the next crucial step is to build brand awareness, broadcasting your distinct identity to the world and establishing what you wish to be recognised for.
Most businesses do not have 'brand dollars' to get logo, messaging and product information on every on and offline platform to become a household name.
Targeted Brand Awareness
Rather than spreading your efforts thinly across all potential clients, you can focus on identifying and engaging with a select group that best aligns with your company's offering. This refined approach allows for more targeted and personalised marketing. By directing your resources towards a specific audience, your brand awareness strategy becomes not only more cost-effective but also potentially more impactful.
After all, how many customers do you really need?
Choosing the Right Channels for Brand Awareness
Industry events, paid advertising, and social media platforms like Twitter, Facebook, and Instagram can be used to increase brand awareness. However, their effectiveness in a B2B context can vary.
Some drawbacks of these channels include:
High costs
Once the conference is over, and the advertising money is spent, you can be forgotten
With lack of ongoing nurturing, you're heavily reliant on a hot lead or two in a shorter space of time to determine ROI
There are a lack of targeting options at a job title level
Harnessing the Power of LinkedIn for B2B Brand Awareness
LinkedIn, in general, holds tremendous potential for B2B companies aiming to elevate their brand awareness.
Nevertheless, LinkedIn's company pages tend to have restricted functionality, and their posts often fall short in terms of reach and engagement compared to posts from personal profiles.
To circumvent this, encouraging your team members to post frequently can significantly expand your collective reach beyond what the company page alone could achieve.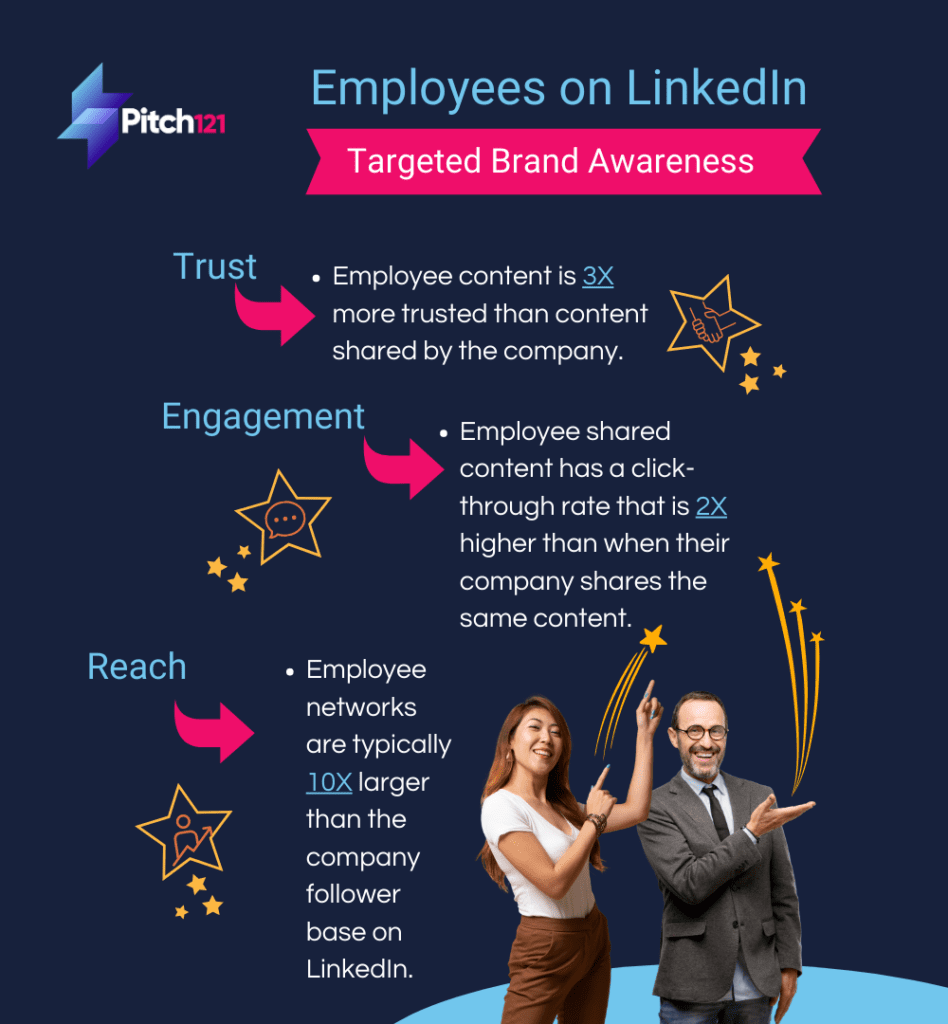 It's worth noting, however, that organic activities may not on its own get your content in front of its intended audience.
There is a way to overcome this.
When an individual forms connections with various stakeholders who are active on LinkedIn at your target companies and actively engages with their content, an interesting dynamic unfolds.
"These interconnected profiles begin to form a small algorithmic bubble of visibility."
Imagine, for instance, your target CTO is connected to your CTO, CEO, salesperson, and Operations Director. As a result, they are exposed to a variety of posts throughout the week, each revealing different aspects of your company's operations and ethos. This continuous exposure provides them with an insider's understanding of your company, showcasing why you excel in your field. Consequently, when your salesperson reaches out, they are more inclined to engage in conversation.
Implementing a cohesive strategy that leverages the LinkedIn profiles of multiple colleagues to establish connections with your target companies can be extraordinarily effective. With consistent posts and active engagement, you can solidify your company's reputation and cultivate trust. This approach is not just cost-effective, but it also allows for targeted interactions with potential customers at a personal level, thereby enhancing your brand awareness strategy.
A LinkedIn Brand Awareness Strategy
To execute, a LinkedIn Brand Awareness Strategy requires a cross-departmental plan. People will need training, and some people may need help to get started in order for everyone to be successful in driving awareness.
This might involve;
Creation of a content calendar
Building of lists for each team member and co-ordination of who connects first, second, third..
Knowledge sharing – the team need to know the client problems to focus on and language to use that will resonate with their audience
LinkedIn know-how on how to amplify post reach
A plan to track client stakeholders to consistently engage on their content
Specific tasks for each team member from the sales team
Setting goals to measure success.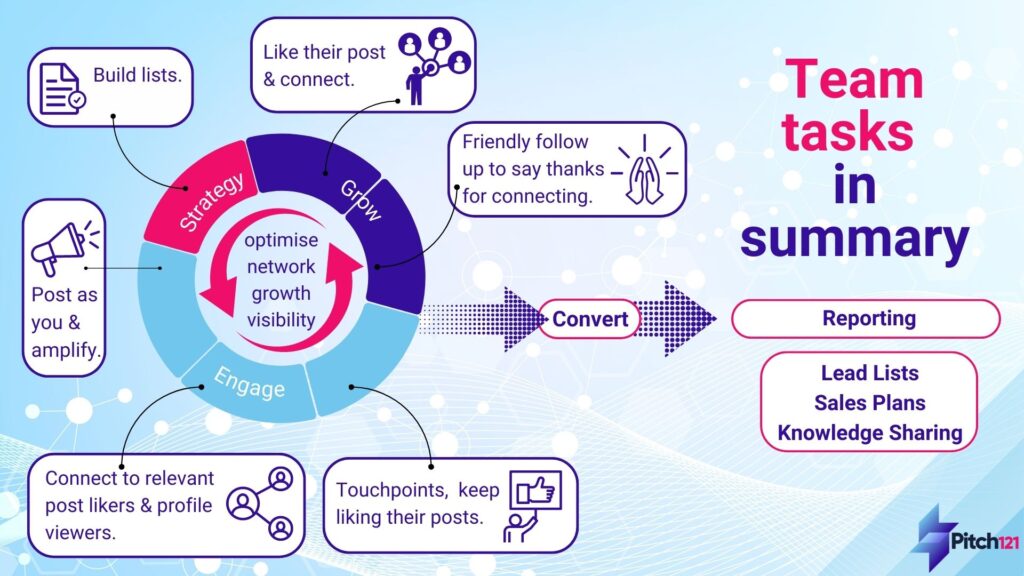 A cohesive strategy to leverage multiple colleagues' LinkedIn profiles to connect you with your target companies, with consistent posts, will establish your company's reputation and build trust. This approach is not only cost-effective but also allows you to be targeted and engage with potential customers on a personal level.
If you would like to discuss your LinkedIn brand awareness campaign, email us at [email protected]
——————